BUILD .97 HAS LANDED
TOXIKK PATCH #015, GINGER BUILD GENERATION
GENERAL
PATCH #15 BRINGS YOUR V0.96 BUILD UP TO V0.97 GINGER
As we're approaching the full release, .97 is quite a big patch that brings many new features, a new vehicle map, plenty of critical fixes and polishing tweaks. Here's what we did in detail:
NEW FEATURES
FTR_01 - NEW VEHICLE MAP: EHRGEIZ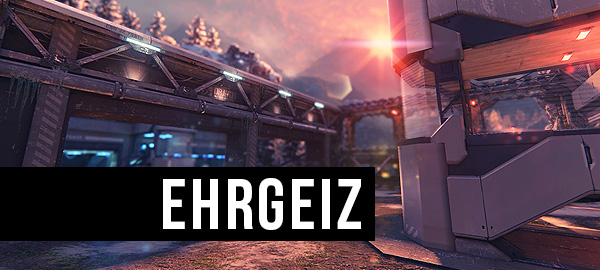 GET READY FOR SOME HEAVY BATTLE MECH ACTION
:
CC-Ehrgeiz
was announced a few months ago, but still required some optimzation and play testing. We already had lots of fun with its straight-forward "clash" layout. It features the Demon Battlemech and the Rhino APC. CC-Ehrgeiz rewards strategy and team spirit more than e.g. movement skills. Check it out and let us know how you like it. Screenshots of the map at
http://toxikk.com/maps
FTR_02 - STEAM WORKSHOP ACCESS FROM MAP SELECTION MENU
You can now access community made workshop maps directly from within the game through the Steam browser. We added this feature to give custom made maps and content more visibility and to make the installation process easier.
FTR_03 - ADVANCED SCREENSHOT TOOL
MAKE SCREENSHOTS LIKE A PRO
: Pressing F10 in Boot Camp (single-player) matches already took you to the screenshot mode, but we now heavily improved this tool. Here's a quick manual if you want to try it yourself:
[MOUSEWHEEL]
Adjust Field of View (FOV)
[G]
Enable Centered Object DOF Auto Focus
[H]
Enable Centered Object DOF Auto Focus
[P]
Toggle Pause
[R]
Refresh current View/Scene to fix Distance Optimizations
[+]
Increase Playback Speed
[-]
Decrease Playback Speed
[F9]
Save High Quality Screenshot in lossless BMP
[F12]
Save Screenshot via Steam/JPG
When launched, the tool automatically sets the highest level of detail to the environment and objects. The DOF auto focus is simple to use, yet adds a lot of depth to your images, resembling spectacular
tilt shift
aesthetics:
FTR_04 - ENHANCED VEHICLE VISIBILITY
Like with the characters, far away vehicles can now be identified better, as they got a subtle glow to keep them from blending into the background too heavily. It automatically kicks in as a vehicle increases its distance to the player.
FTR_05 - BUTTON TO RESTORE DEFAULT SETTINGS
Most options and customization menus got a new "DEFAULTS" button that allows you to reset your adjustments to the default settings. This was requested many times for the crosshair customization, but we thought that it made sense for pretty much every sub menu.
FTR_06 - IMPROVED DEDICATED SERVER STABILITY
Servers used to run into sync problems if hosting one and the same map for a long time. Servers now restart periodically to avoid this issue. They restart 5 minutes after the last player leaves or every 45 minutes if in
wait-state
.
FTR_07 - NEW LOG MESSAGES CLASS: SYSTEM MESSAGES
We added a new class to the messages that appear in the HUD. It allows us to define its color and lifetime (i.e. it doesn't get pushed away by newer log messages in the HUD). We will use this for tool tips and hints, but also for all kinds of important messages.
FTR_08 - AUTOMATIC VERSION CHECK
Game clients now check if the server is running the same binary as the client and refuses to connect if the versions differ. Before, the client tried to download "core" and lots of other stuff from the different server to adopt.
FIXES
FIX_01 - SERVER BROWSER PREVIEW IMAGES
Server browser sometimes showed red preview images for maps. This should no longer happen.
FIX_02 - LOW MATCH TIME CAUSING NO MXP/SC SAVE
The problem where your MXP/SC wasn't saved if your playtime wasn't at least 7.5 minutes long, was fixed. MXP now gets always saved if you play an online match on an official server against at least one other player or bot. SC (Skill Class) gets saved if the afore mentioned criterias are met plus:
A match needs to be at least 4 minutes long
If a match is less than 10 min, your match time needs to be 75% of the total match time
If a match takes more than 10 min, you have to be at least 7:30 min in-game
Why these rules? Simple: if you join a match late and lose the match (e.g. only the last 3 minutes of a 20 minutes match), your position in the scoreboard is not really representative for your skill. If a match is really short (less than 4 minutes) and/or has a very low goal score, you could've won or lost based on coincidence. However, this is only true for SC (which is why from .97 on, MXP will always be saved, no matter how long your match-time was).
FIX_03 - GLOBAL CHAT MESSAGES
Outgoing global messages didn't appear in the HUD log. This was fixed.
FIX_04 - MISSING NAME TAG
The name tag on your armor's breast plate wasn't displayed in online matches. This was fixed.
FIX_05 - STREAMER (HOVER BIKE) AND RAGDOLL FIXES
This was one of the bigger baddies, as the ragdoll and the Streamer simply didn't work as intended at all. The following fixes and changes were applied:
5.1 The feign death feature doesn't prevent falling damage any more
5.2 Last second jump off from Streamer no longer prevents falling damage
5.3 You can't avoid falling damage by spawning a Streamer
5.4 Feign death teleporting (entering warp gate as a ragdoll) was fixed
5.5 Ragdoll/feign death hit detection was fixed
5.6 Player/player collision with ragdoll was fixed
FIX_06 - BLACK SCREEN OF DEATH
If connection took very long (e.g. due to failed authentication), you got stuck in a black screen. This was fixed and you should now automatically return to the game's main menu.
FIX_07 - VISUAL STATE OF REPAIRED VEHICLES
Freshly repaired vehicles didn't return to their "straight from the showroom" look when repaired, but kept looking damaged and rotten. This was fixed.
FIX_08 - CONNECT TO IRC SERVER FIXED
The connection to the IRC chat server failed pretty often. This was fixed.
CHANGES
CHG_01 - SERVER BROWSER IS BACK
The server browser is now accessible again, but the Quick Join feature remains as an option.
CHG_02 - OFFICIAL SERVERS FIRST
To avoid confusion, official servers will now always be shown first in the list. So no more 111AAAA-ACE-STATION displayed first. Also, the filter to display custom servers is by default off (but well visible below the server list). Both changes were made to make the server browser more n00b friendly.
CHG_03 - SCOREBOARD RESTRUCTURED
The technical way the scoreboard is displayed was changed to allow easier access to the layout for modders. You can now create your own game modes for the Steam workshop and have scores displayed properly.
CHG_04 - COLORS FOR EVERYONE
Colors and glows in the cusomization menu no longer require MXP to be applied.
CHG_05 - FASTER MAP CHANGES
If a game is aborted by a successful map poll, there'll be no more winning/losing ceremony screen before travelling to the next map. You'll go to your stats screen and then directly travel directly to the next map.
FINAL THOUGHTS
We're approaching the final release (1.0) with big steps now. As
voted by the core community
, 1.0 will come with an alternative FREE TRIAL, to lower the entry barrier for everyone to play TOXIK. The FREE TRIAL (aka FREE EDITION) has nothing to do with F2P, but acts as a classic PC game demo. Its details will be released in a separate announcement around next week.
We're just one more patch and the so called "tweak week" away from 1.0. The next patch will bring the single-player campaign and the last map "CALIBER", which will not only serve as a tutorial map, but also introduces a new game mode (Time Trial). The tweak week will be one week of doing final adjustments to the game's balance in close communication with the core community. All of this will also be announced separately... so, stay tuned and happy fraggin'! Join the Early Access Beta:
TOXIKK's Store Page on Steam
TALK LIVE
with the community on our
NEW DISCORD LIVE CHAT
HTTP://CHAT.TOXIKK.COM
...or discuss this announcement in our support forum
V.97 ANNOUNCEMENT THREAD